Happy Father's Day to the Man Raising Kids Who Aren't His Own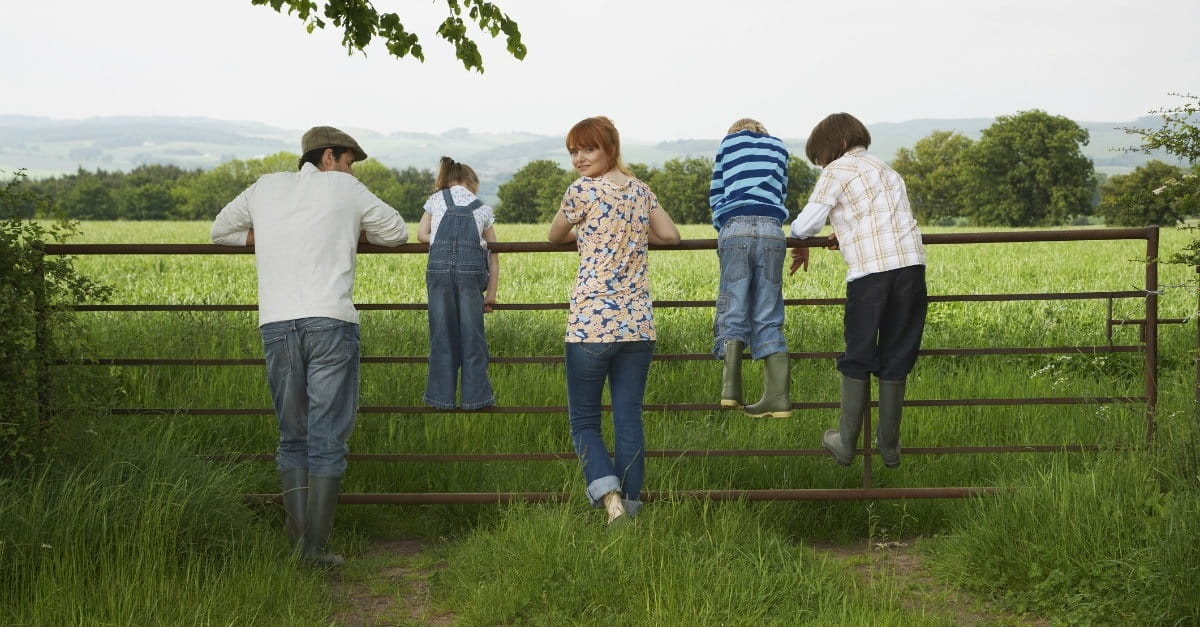 By Dena Johnson Martin, Crosswalk.com
My life has not turned out the way I dreamed, and I am so thankful.
Nearly a decade ago, I became a single mom raising three kids. That's certainly never anyone's plans. Whatever the reason for being single, it's a rare individual who plans her life that way.
I remember when I first entered single motherhood. I wondered what man would ever love a middle-aged woman with three kids. What man would ever sacrifice his life to love me and my kids? I resigned myself to being single forever…or at least until my kids were grown and out of the house.
Over seven years of single parenting, I was alone. I chose not to date, not to bring men into my kids' lives for fear they would grow attached only to have another man walk out, another man leave them alone and rejected. I chose to wait for God to bring someone special.
But I'm not sure I ever really believed He would.
The kids and I prayed. We prayed for a man who would love us all very much, a man who would fill the void of the dad they longed to have. We prayed for a man who would love God. We prayed for a man with a hairy chest, a bald head, and bushy eyebrows (my daughter was young and idolized her bald-headed, hairy-chested grandfather).
We prayed and we waited. We prayed more and we waited longer. Maybe we even gave up hope.
But he was with us all along.
A year ago a man stepped into my life. In all reality, I had known him for over 30 years, and I had laughed about how much he cared for me. I had done everything I could to insure he would know we were friends, and only friends.
Until God gave me fresh eyes. Until he surrendered to the Father and chose to become the man God created him to be. Until he was the one standing by my side, wiping my tears on some of the most painful days of my life. Until my kids began to beg me to choose him.
It has been a year of seeing the answers to our prayers, a year of understanding what God was doing in the silence and the waiting. It's been a year of learning how to break down the wall I had built to protect my broken heart and let someone in. It's been a year of watching God create a family out of some very broken individuals.
And it has been a year of watching a man step in and love children who are not his own, children who are desperately in need of an earthly father.
So many children have a void where a dad should be. Whatever the reasons—death or divorce or abandonment—the loss of a dad creates a deep wound that is not easily healed, a wound that often leaves children seeking approval in the wrong places. It's a wound that can handicap children for life.
But there are the rare heroes, the men who selflessly give of themselves to step in and fill that void. The men who love so deeply, so passionately, that they willingly assume the role of a father to the fatherless—a true characterization of God himself.
To those incredible men out there raising children who are not their own, here's what I want to say:
Thank you for showing them how to be a godly husband. My boys have often worried about what kind of husband they would be. They've wondered how they would know what to do, how to love their wives as Christ loved the church. They have many wonderful examples in our family, but they wanted the opportunity to see up close a godly husband.
My kids have watched for years as this incredible man has pursued me relentlessly. They've watched over the last year as he has cared for me so tenderly. They've seen his acts of kindness done every day and his larger acts of love on special occasions. My boys have finally seen what it is to be a godly husband, and my daughter now has an example of how a man should treat her.
For husbands, this means love your wives, just as Christ loved the church. Ephesians 5:25
Thank you for showing them what it means to be a father. I've always heard we see God however we see our father. For the childless father, that's scary. Whether the father is absent because of death or divorce or abandonment, it's difficult to relate to God the Father when you have no example of an earthly father.
I know my own children have struggled with their faith in the absence of their own father. They've struggled to know God is good when it seems there's been so much pain in their lives. They've struggled to accept that God loves them immensely when they don't have a father to model that love.
But now they have a good earthly father, one who loves them in spite of their shortcomings. They have a man who loves them even when they might be less than loveable. They have a man who loves them in the midst of the raging hormones of the teenage years. They have a man who sacrifices everything for them, just as our Heavenly Father does.
See how very much our Father loves us, for he calls us his children, and that is what we are! I John 3:1
Thank you for being an active supporter of their pursuits. My younger son is heavily involved in FFA at school, an organization dedicated to promoting agriculture as a way of life. In the winter, he raises and show pigs. One very cold morning in March, my son was showing at the biggest show of the year. He was in the first class which meant we had to be at the fairgrounds by 6:30 in the morning.
Without ever complaining, Roy joined us at the fairgrounds bright and early, giving up his warm, comfortable bed for a smelly and cold pig barn. He was there as my son marched his pig through the line-up, expertly showing off for the judge. He was there when Cole placed 7th in his class. He was there when Cole took his pig down the final walk to load him on the truck. He was there.
It has been such a blessing to see a man step up and support my children, to simply be there, to be present. To know it's not just me in the stands, loving and supporting my children. To know there's a male who is proud of them as they grow and become all God has created them to be.
Thank you for helping my boys with manly activities. It's hard to be a single mom raising boys. My nature is to be loving and compassionate and kind. My nature is to nurture. While it's good for boys to have that example, it's also important for them to develop the heart of a warrior. They have an inborn desire for excitement and risk-taking, something I will never understand.
For the first time in a decade, my kids have a man who understands what a boy needs. He challenges them to step out, to challenge the status quo. He knows what it is to develop the heart of a warrior, one who will fight for those he loves. And he is showing my boys what it means to love fiercely, to protect at all costs. He's filling in the gaps I was never able to fill.
Thank you for loving them as your own. I can't say enough about how amazing it is to watch a man step in and love my children as if they were his own flesh and blood. In the midst of the chaos of our lives, I watch with a smile on my face as he nurtures the relationship, gives of his time and energy, and steps out of his comfort zone—all for the sake of my children.
My kids are blessed to have a man in their lives who has been the best substitute for a dad they could ever have asked for. God has far exceeded our expectations, answered our prayers in ways we could have never imagined.
To all the men raising children who are not your own, I must only say thank you. You will never know the impact you are having on young lives, the healing you are bringing to broken children.
Happy Father's Day to all you stepfathers who do an amazing job!
Dena Johnson is a busy single mom of three amazing kids. Her greatest desire is to use her darkest days—days marred by adultery and divorce—to encourage others to find the joy of a life restored by Jesus Christ.
Dena is the founder of Dena Johnson Ministries, a non-profit organization with a mission of bringing hope to lives broken by the pain of this world. Her first book, Picking Up the Pieces: Rebuilding Your Life After the Storms of Adultery and Divorce, will be released later this year.
In her spare time, Dena works as a Registered Nurse and is a regular contributor at Crosswalk.com. If you would like to contact Dena, please feel free to interact with her on her blog Dena Johnson Ministries or email her at [email protected].
Publication date: June 13, 2017
Image courtesy:©Thinkstock/Moodboard