Speech That Wounds - Today's Insight - January 15, 2022
Crosswalk.com

Take a few moments to review Proverbs 15:2, which we will use as our outline as we discuss the destructive use of the tongue. [Saturday] we will concentrate on constructive uses of speech.
I have never known anyone who has not, at some time, struggled to keep his or her tongue under control. Because we are fallen, sinful, selfish creatures, we naturally use words to serve our own interests—often at the expense of others. And of course, all of us have suffered the lacerations of another's verbal barbs. As I read through Solomon's sayings, I find at least five unhealthy ways an uncontrolled tongue reveals a sin-sick heart. If this issue of an uncontrolled tongue is one of your daily grinds, I encourage you to pay extra-close attention.
Deceitful flattery
Bread obtained by falsehood is sweet to a man,
But afterward his mouth will be filled with gravel. (20:17)

He who rebukes a man will afterward find more favor
Than he who flatters with the tongue. (28:23)
What is flattery? Nothing more than insincere compliments spoken with deceitful motives. It is excessive praise verbalized in hopes of gaining favor in the eyes of another. The difference between affirmation and flattery is motive. If we hope to say something to another that will ultimately benefit ourselves, it is flattery. If we speak for the ultimate benefit of the hearer, we either affirm or rebuke, whichever the situation demands.
Gossip and slander
A worthless person, a wicked man,
Is the one who walks with a perverse mouth,
Who winks with his eyes, who signals with his feet,
Who points with his fingers;
Who with perversity in his heart continually devises evil,
Who spreads strife. (6:12–14)

He who conceals hatred has lying lips,
And he who spreads slander is a fool. (10:18)

A fool's mouth is his ruin,
And his lips are the snare of his soul.
The words of a whisperer are like dainty morsels,
And they go down into the innermost parts of the body. (18:7–8)
Who hasn't been hurt by the wagging tongue of a gossip? By gossip, I mean any talking that causes people to divide into camps. Usually, this speech reduces someone in the estimation of the hearer. Gossip almost always conveys false or exaggerated information maliciously. Throughout Scripture, God reserves some of His harshest rebukes for gossips. He despises this sin.
When you receive information that could defame or harm another, consider these questions and responses:
Does this information involve you or affect you directly?
If not, let the chain of gossip end with you. If so, discuss the matter only with the people directly involved.

What is the motive of the person who conveyed this information?
If it is not love, either rebuke that individual or remove yourself from the conversation. If the motive is misguided love, offer to facilitate a constructive conversation between the gossip and the victim.
From Living the Proverbs by Charles R. Swindoll, copyright © 2012. Reprinted by permission of Worthy Inspired., an imprint of Hachette Book Group, Inc.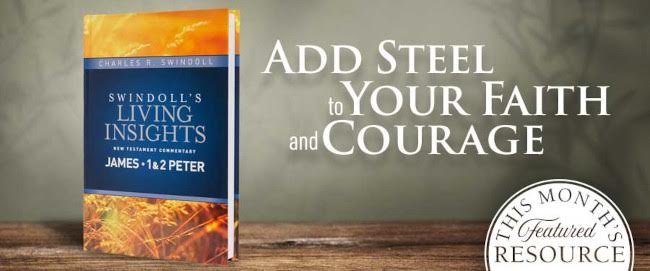 Used with permission. All rights reserved.
Listen to today's broadcast of Insight for Living with Chuck Swindoll at OnePlace.com.
Visit the Bible-teaching ministry of Chuck Swindoll at www.insight.org.