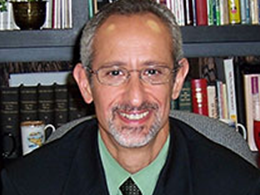 ---
Steve Kreloff is the pastor/teacher at Lakeside Community Chapel in Clearwater, Florida. He has been on staff at Lakeside since 1976, serving as pastor since 1981. The emphasis of his ministry is the expository teaching of the word of God.

Steve is a Jewish Christian who, while a student at the University of South Florida, received Jesus as Messiah, Lord and Savior. He is a graduate of Moody Bible Institute and Tampa Bay Theological Seminary (now called Dallas Seminary, Tampa Bay Extension).

He has been a contributing editor for the magazine "Israel My Glory," and has written articles for this and other magazines including "Masterpiece." He has also written three books: "God's Plan For Israel, A Study of Romans 9-11," "Expository Preaching and Teaching" and "The Pleasures of Marriage: An Exposition of the Song of Solomon."

Steve serves on the Mission Board of Aurora Ministries. He and his wife, Michele, have three children who love and serve Christ. Steve and Michele have also ministered extensively to correctional chaplains through seminars across the country.