Call the show at 727-835-9332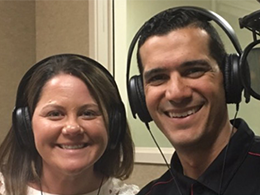 ---
DR. RAUL SERRANO D.C.
Dr. Serrano servers the Tampa Bay community through his practice Ignite Chiropractic & Wellness located in Palm Harbor. Their team is here to help you and your family ignite a healthier, happier and more fulfilled live. Visit our homepage to learn about our organization, mission, our methods, and the results of our decades of advocacy.
---
---
DR. SUZANNE FOLEY D.C.

Dr. Foley's passion for health is clearly established with her dedication to her patients and her sincere interest in each and everyone one of them. Her team at Seagate Chiropractic is dedicated to her patients, the community and all aspects of life. Visit her homepage to learn about how she is engaging and transforming here patient's lives.