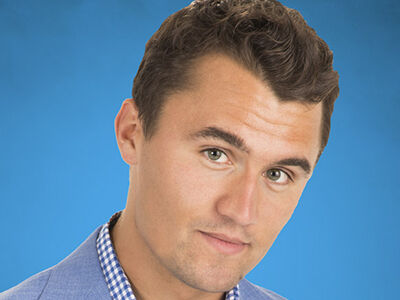 Charlie Kirk has a unique relationship with America's youth. When he started Turning Point USA in his parents' garage as an 18-year-old, he had no idea how big this group would grow. He just felt the call to save America's students and young people.
Today that organization has over 450 full- and part-time staff with chapters on over 2,500 college and high school campuses across the country. His annual Student Action Summit attracts 5,000 young people who come together to hear from leading conservative speakers and activists about how we can work to preserve, restore, and defend America for the next generation. On top of all of that, Charlie has one of the top daily podcasts in the country and he also hosts "The Charlie Kirk Show" from the Salem Radio Network, a live show heard on over 150 national affiliates.
Charlie knows that if we can save the youth of today, we will save America for all of us. But so much of that important work starts with turning them back to God. That's why Charlie's newest endeavor, Turning Point Faith, is introducing "Saving America with Charlie Kirk", a daily 26-minute Christian program, specially designed for the nation's Christian teaching and talk radio stations.
Charlie speaks in over 70 Christian churches every year, and now with the launch of "Saving America" you can hear those sermons too. He's a culture warrior challenged to save this country, one youth at a time. You won't want to miss an episode of "Saving America with Charlie Kirk"
Show Links:
---
Saturday, October 16, 2021
For more exclusive interviews, insight, and analysis like this, SUBSCRIBE to The Charlie Kirk Show TODAY: https://apple.co/2VCxGsh And for EVEN ...
---
Superman is no longer a superhero for American values, nor does he care to protect the "American way." Last week DC Comics announced the newest Superman is bisexual. In addition, Superman is so "woke" that DC Comics revealed it will be removing the popular Man of Steel's mantra, "American way."
DC Comics released its company's new mission...
---
Charlie Kirk is the next big thing in conservative talk radio and he's now hosting a daily radio show called "The Charlie Kirk Show" on the Salem Radio Network.
The radio show can be heard on great talk radio stations all over the country. He also airs a daily podcast of the same name, which has become one of the top 10 news shows on Apple New Podcast rankings.